Testimonials
One of the most satisfying things about health coaching is seeing the positive changes and growth in our clients lives. The following quotes are actual words spoken by real Weiser Choices clients who found success dealing with real-life challenges in areas ranging from weight loss to stress reduction to overall life improvement. We hope what our clients are saying here will give you an idea of what's in it for you when you choose Weiser Choices. We hope they inspire you as much they do us.

Nancy Weiser
I had always considered myself a relatively healthy person. I exercised regularly, ate well enough, took vitamins and was not overweight. However, I knew I could do/be better. It was when my migraine headaches became a more common occurrence than not and I suffered from a terrible episode of vertigo, that a health coach/ friend of mine, suggested I meet with Nancy. And so I did…and my journey began. Nancy taught me so much about how my food choices were impacting my energy level. There was a direct correlation between what I ate for breakfast and how I felt at about 3:00 in the afternoon, when the migraines generally began. I now knew the reason I was crashing most afternoons and feeling lethargic. My food intake or "fuel" was not enough to sustain me throughout the day. Nancy's program made me accountable for my choices. The articles, recipes and books that she introduced to me dramatically changed my views toward food and provided me with an education that I was lacking. She also helped me make very positive changes within my support system at home (babysitter, housekeeper). By redefining their roles, it enabled my family to join me on my journey. My children are now involved in making healthy decisions and are held accountable for their choices. Working with Nancy for a year dramatically changed my life. I am a stronger, smarter and happier person. Nancy was the best gift that I've ever given to myself!
– Debbie Harwin, December 2012


Nancy Weiser has the ability to change and heal people's lives, and I know because she has had a transformative effect on mine. Her approach is integrative and holistic. She begins with nutrition, but her great expertise and gift is to lead us to wellness in body, mind, emotion and spirit. She treats all of these with equal emphasis and balance. She is a health professional, therapist, analyst, coach, rabbi, guru and friend all at once.
What she has helped me to accomplish is nothing short of amazing. When I began working with Nancy, I was very much at an impasse in most areas of my life, both personally and professionally. She helped me to analyze the source of my problems in each arena, and together we developed a specific action plan. We set clear goals for the short, medium and long-term. She has an extremely focused mind (and photographic memory!) and is able to survey the entire landscape of your life, perceive with great acuity what needs to be done, and then with a firm, assured hand, elicits your own strength from the inside out, and then from the outside in.
Under Nancy's guidance, I have not only fulfilled the goals I set for myself, but I feel that what I have accomplished to date is just an inkling of what is possible. She balances clear-eyed realism, unshakable optimism, and spiritual faith in the goodness of all beings and the universe more beautifully than anyone I have ever met. I think of Nancy as the W(e)iser One.
– Nicholas Callaway, Co-Founder and CEO, Happy, October 2012

I've known Nancy for many years on a personal and social level, and around 7 years ago I worked with her to improve my diet and how I fed my kids. She was extremely helpful and as a family we made some major changes for the better at that time. Several months ago, following summer camp, my 11 year old son came to me asking to help him figure out a plan to "get healthier." I wasn't sure of the best approach, so I turned to Nancy, as I've always found her to be uniquely insightful and I trusted her opinion. Nancy explained to me that J needed more than just a nutritionist to give him a list of foods to eat, as an 11 year old isn't always in a position to follow a plan. Rather, he would benefit long-term by learning how food affected his body, which in turn affected how he felt day-to-day. This would encourage him to be healthier as a way of life and feel
better all around.
J, my husband and I started by meeting with Nancy together. We were all very impressed with Nancy's approach, and after just one session J (and my husband, who also benefited from this) started drinking green smoothies, eating oatmeal and veggies, and paying attention to what was on the labels of the foods he was eating. He felt more full after meals and began eating less. He lost 5 pounds in the first two weeks, started feeling terrific about himself and even improved in all of his sports! After his second session, J began cutting back on dairy and immediately had more energy and fewer stomach issues. He started making better choices even when he was away from home – at school or out with his friends. By the end of his time with Nancy he was even encouraging the rest of the family to stay away from places with low quality foods. J's positive changes around food have had a ripple effect on our entire family.
After 6 weeks J lost 15 pounds and felt dramatically healthier. His self-confidence improved as did his performance on the sports fields. Nancy taught him that the food he eats is his body's fuel and if he feeds it well his body will repay him.
Most importantly, Nancy put a difficult lesson for all of us into language that J could understand, appreciate and act upon immediately. I knew that having J meet with Nancy would be helpful, but I was overwhelmed with how quickly she has had such a positive impact on his life. She was amazing! Now, I'm working on getting my husband to go see Nancy!
– Allison Stahl, January 2012

Nancy came along at exactly the right time in my life, and I am so much better off for having met and worked with her! When I started working with Nancy, I was recovering from a difficult pregnancy, adrenal fatigue, and experiencing frequent anxiety and panic attacks. I could barely drive due to the anxiety. I was very fatigued and trying to adjust to adding a new baby to my already busy life as a working mother of a 7 year old. I was also unhappy with where I was living and was stressed and exhausted from moving 7 times in the previous 7 years. And I was shifting my career from physical therapist to health coach (and/or combine the two?) Plus, I wanted to find some balance between my careers and our two young daughters.
Nancy was supportive, kind, and I really looked forward to all of our meetings. She has great instincts for stopping me at the right times so that I could take a breath and look at what I was feeling and what I really needed. She suggested tweaks to my diet that made a significant difference, and added great recipes and short cuts to my cooking repertoire. She helped me to realize when and how I needed help, and how to ask for it most usefully. And she helped me to prioritize and truly enjoy my young family.
I am now fully recovered from my difficult pregnancy, including losing all of my baby weight! I have returned to moderate exercise that I really enjoy. I am strong enough to still be nursing my baby...who is mostly sleeping through the night thanks to a little encouragement from Nancy! I feel strong, my anxiety is 70% better, and I can drive all over my city without panic attacks. Best of all, in just a few weeks we will be moving to a city that I am looking forward to where we will likely stay for a long time! I am excited about my career prospects and now have the energy to create a good work life in concert with enjoying my girls! Thanks Nancy!
– Jessica Drummond, MPT, CHC, September 2011

I suffered from a lifetime of mindless (although psychologically relevant) eating patterns, was nearly 50 years old, busting out of a size 14, had many hip and joint ailments which made me give up jogging and tennis, and the gross realization that I did not want to become a fat old limping lady… all led me to take Nancy up on her offer of a free one-hour consultation. Sitting there, I felt like an alcoholic who had hit rock bottom and was in desperate need to climb out or l would lose everything. When she mentioned the commitment involved, I didn't think I could do it. I left without signing on.
Many days later, I was still thinking about our meeting and my misery. I plugged my nose and dove right in. While it all wasn't as pleasant as sitting on the beach, it sure was a lot easier than suffering with a blubbery ailing body. Within weeks, it was easy; easy to make intelligent, mindful choices. It was not such a stretch to think I would lose weight once I cut out processed food, and replaced it with real food. The surprise came with how quickly my changes occurred. Within no time, noticeable changes were happening. I couldn't go any where without people commenting. Ultimately, I lost 20 pounds within five months. But more importantly, what I got was an energetic, healthy body and peaceful mind.
Beyond me, these benefits directly impacted my family. My young children are now making intelligent choices and breaking destructive eating patterns. They too have more energy and will be far healthier than they would have been. Finally, and quite unexpectedly, my marriage grew to a far deeper level. Trust and purpose began to overtake daily routine and pressures.
Nancy, teaches far more than how to eat. She teaches how to live. She offers a support system that enables one to create a lifestyle that no book or diet can accomplish.
– Mary Blum, February 2010

"Why do you need to do the program, you eat so healthy already?" Those are the words I heard from my friends and family. But, I wanted to find out why everyone who had completed Nancy's program was transformed!
Now that I finished the program I know why!
It is life changing—what I learned, in a nutshell, is "to be mindful." To stop and smell the coffee (well not that anymore) and to think about what I am eating, what I am doing, why I am doing it and to enjoy all the moments. Nancy's program has helped me to make great eating choices, figure out my career and create personal goals and attain them!
I have had close friends and strangers tell me I look amazing. I feel amazing and have so much energy and verve for life.
I have always been a passionate cook—now I have the opportunity to cook healthy meals every night and have my kids cheer when the meal is set down. The whole family is into the process.
I have been living this "new life" for the past year and I can tell you that it is no way a "diet." I don't even think about food in a "can I eat" way—I just eat what I know will allow me to feel good, always!
I am empowered to be the best I can be and to always strive for more!
– Danielle Seltzer, February 2010

While I was working the other day I heard a parent talk to my receptionist about how we (my family and I) had had a really rough year. I wanted to yell out from my room that I had had a great year but I didn't want to scare the child in my chair. As I sat there working, I realized that they were talking about my breast cancer and my husband's spinal fusion surgery in the last 9 months! I then sat there thinking how could I possibly think I had had such a great year when all of these bad things had happened to us? The answer came to me that I had spent 2 ½ years with Nancy Weiser. The time I spent working with Nancy prepared me to deal with everything that was thrown at me this year. My head would never have been able to see the greatness in this past year without her guidance.
I came to Nancy two and a half years ago to lose weight when I was frustrated that all my exercising had produced no weight loss. I felt like I already ate healthfully, little did I know.
Following one 6 month session and a half-time session for another 6 months, I had gained 3 pounds! Not a great advertisement for a successful program! However, I felt great! I had given up 40ounces of diet coke a day, ate kale and quinoa all the time and practiced yoga 2-3 times a week. I sat on Nancy's couch and said I didn't know what to do. How could I do all of this and not lose weight? I was really frustrated.
Through Nancy's guidance and my sister, who is a gynecologist, I was prodded to really explore my medical issues and my head in non-traditional ways. My sister fixed my medical problems… and Nancy helped me to assimilate everything. Nancy had been trying to teach me to live in the present and to really feel things – now I could. I tasted food. I enjoyed it. I started to lose weight!
It's been a little over two years since I started with Nancy. My last session with her was about 4 months ago. I have lost over 10 pounds since then and probably closer to 15 since the weight started to come off. I still notice a drop of one or 2 pounds every few weeks. I'm down from a size 18 to a 14 and can even fit into a 12 sometimes. I am vegetarian (leaning vegan) by my choice and loving it. I practice yoga 4 days per week and am amazed at what my body and my brain can do.
This has been a fantastic journey. It's hard to believe what I've accomplished in this last year. I'm healthier, my family is healthier and we are all much calmer and happier. I really couldn't have done this without Nancy.
– Leyla Z. Nakisbendi, DMD, December 2009

I am a health professional in New York City in my late 40s who had become quite dispirited over the past several years—I felt lethargic and tired most of the time, always hassled and buried under more projects and responsibilities than I could possibly manage. I also noticed that my clothing was getting tight and my weight had crept up to a number on the scale I had never seen or ever wanted to see—it all had the makings of a profound nightmare.
My initial meeting with Nancy was explosive—the conversation was like no other that I had experienced in my professional life. There was no way to bury the truth and no way to avoid engaging in positive prospects for the future, using Nancy's client-specific tools as a guide. Make no mistake about it—this is not a diet program. Rather, one's relationship to food is used as a conduit to affect global change in one's life. The intense reevaluation and restructuring process allows for increased focus, direction, and progress. When I first met Nancy, I had steep mountains to climb on my personal and professional "to-do list." The books/articles that Nancy suggested served to spark foundational changes in my thinking and my perspective. The "Fierce Conversations" that followed helped me to get to bedrock truths about myself and to get to the heart of my current habits. Consumption of 40-60 ounces of Diet Coke per day seemed an insurmountable challenge, as did my heavy sugar intake and sugar cravings. My 20-year absence from regular exercise also seemed impossible to overcome.
The key to Nancy's program is not the reading materials, however, but Nancy's keen insight into her clients as individuals. Nancy carefully dissected my roadblocks, held up a very bright light to expose these impediments and forced me to confront them in a very gentle, intellectual, and Zen fashion. In a nutshell, Nancy and her program have allowed me to see the connection between my personal beliefs and the actions I take and how to fundamentally shape and change them. Nancy Weiser has been a portal to the "other side" of change and once you can see it and feel it, there is, happily, no turning back. I now have healthier relationships, healthier children, a healthier body, and an irrepressibly positive outlook of the future.
If you want to affect the changes that you always wanted to make and have somehow resigned yourself to never being able to get to – think again. Nancy finds a way for you to focus your power on your concerns and to solve them in a methodical, forgiving fashion. Her methods allow individuals to take their own path to where they know that they really want to go.
– Mark J. Bronsky, DMD, MS, PC August 2009

After some dietary changes: eliminating caffeine, most animal protein, white flour, and my nightly glasses of chardonnay I felt better immediately! Introducing yoga relaxed me and I tried many new and delicious meals for my family.
Most surprisingly and most beneficial to me was that Nancy essentially "reorganized" my life. She helped me prioritize my time with my family and ask for help when I felt overwhelmed. For example, simple suggestions like involving my babysitter in cooking dinner allowed me to spend more time with my children. I also began planning the week's meals in advance which eliminated my constantly running to the grocery store at 5 o'clock in a frenzy. I feel more relaxed and happier which makes me a more patient, kind parent and wife as well as a peaceful and healthier person.
– Sarah Davis, September 2008

I have just completed Nancy's 6 month health course and have signed up
for 6 more months.
I am an attorney working in the securities industry on Wall Street, living in Larchmont with two teenage children and husband number two after a divorce. I considered myself fairly athletic as I was able to run 6 miles, went to the gym 4 days a week, danced, did yoga and had good eating habits But, I felt as I approached my 50s, that no amount of exercise and dieting could help me feel good about my shape. I was thinking of a tummy tuck. Nancy asked me to wait until I completed the program. Following her guidelines, I gradually saw changes to my shape that I loved. Without ever being hungry, without feeling like I was denying myself pleasures in life, while cutting back on the amount of exercise and increasing the variety of foods I ate, I got rid of that ugly belly. I was thrilled that I had met my goals.
But to my utter surprise, Nancy was not satisfied meeting my goals. She had other goals for me: mental health, not just physical health. Her patient, thoughtful, supportive conversations about my own nutrition somehow led to better relationships at work, with my children, with my husband and with my friends. I also like myself more. Working with Nancy was a treat not just for me, but also for my whole family.
– D. S., March 2008

Nancy helped me change everything. Getting my food right was the foundation. Above and beyond this foundation, our work together has enhanced so many other aspects of my life. With the right food, moderate and enhanced physical exercise, and more attentive self care, I have been able to rediscover and revitalize facets of my self that had been masked or marginalized. I have conquered years of addiction to cigarettes and alcohol. I look so much better and I feel really great. Most importantly, my marriage is stronger and happier than ever and our children are healthy, happy and powerful.
– Jennifer Malherbe, July 2007

I completely avoid the peaks and valleys I used to experience on my "old" diet that was filled with missed meals and lots of sugar… My anxiety levels have plummeted as I've become more in control of the aspects of my life that were causing me to feel stressed, overwhelmed, and unhappy. I eliminated responsibilities that were no longer good for my wellbeing. I adopted new routines that contribute deeply to my feelings of wellness, peacefulness, and happiness. I am all around a much happier, more satisfied, calmer, and more pleasant person.
I truly believe that I would still be in my emotional and physical ruts if it weren't for Nancy. She does so much more than just coach you on good food choices. She allows you to make your life extraordinary – the life you deserve. She has given me back my life.
– Susie Schnall, September 2006

As I approached 40, my sugar cravings were stronger than and I began to realize that my three children were following in my footsteps with their food choices. I decided I needed to take action.
I've always been a picky eater, but Nancy offers so many recipes and alternative choices, I never felt like I couldn't find something that I would like. Within a month, I was cooking more, certainly eating healthier and definitely feeling better. I realized the power of good food and how making the right choices made me feel healthier, more energized and improved my overall well being. I found myself drinking more water, reading food labels regularly, cooking often and buying fresh fruits, vegetables, nuts and other foods so that I would always have healthy alternatives in the house. Just as crucial to the change in my eating habits was the change in my attitude toward cooking. Being able to feed my children "real" food as opposed to frozen dinners and makeshift meals was a huge accomplishment.
– Lori Herbsman, August 2006
Back to top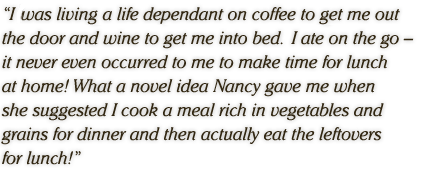 It was this kind of simple and straightforward advice that made it so easy to succeed. The plethora of amazing recipes took the mystery out of this new way of eating and got me excited to shop (especially in the produce section) and get into the kitchen. Not only do I know what daikon is, I eat it regularly!
– Allison Wohl, August 2006

My one concern about the program was that it would limit my eating options, but instead it opened my world to an endless array of choices. Through discussions with Nancy and experimenting with different foods, I found I do best on and enjoy a primarily plant based diet. As a result I have more energy and sleep better. My skin is clearer, and I feel better overall. I became very interested in vegetarian cooking and have introduced so many new foods to my family. My children are eating many more fruits and vegetables and love it. Whole grains have become a way of life and I no longer have sugar cravings.
– Michele Sloane, August 2006

Not only was she invaluable in providing information and coaching, but also in encouraging to me to trust my intuition and be my own coach going forward. I have a heightened awareness of what I need to do to keep my body and mind in balance.
– Connie Chan, June 2006

By working with Nancy I learned how I could benefit from kicking coffee and alcohol to the curb, how my mood would improve, how I'd have increased energy and fewer cravings. And the greatest part was how it happened gradually, painlessly and permanently!
Before working with Nancy I thought my husband and toddler were eating healthy foods. During the course of the program I realized that I was comparing our diet to that of typical Americans. Eating vegetables and whole grains and eschewing the drive thru is indeed a good way to be, but Nancy showed me that there is more to healthy eating than that. Now my son asks for veggies, water, nuts and fruit instead of artificial, chemical-laden, processed junk! Take that Ronald McDonald! He's a much more pleasant child for it too.
What led me to working with Nancy primarily was the realization that at some point…I was going to have to put myself first in order to get my family fit, happy and healthy.
With Nancy's reassurances and total support I stuck it out and I have a stronger marriage, a healthier child and I learned so much about myself along the way!
– Nancy Rogers, May, 2006
Back to top

Most significantly, Nancy provided me with ideas, recipes, information and support as we cut out sugar and refined foods. We actually added so many interesting and tasteful things to our diets, that the loss of candy, chocolate, and refined flour and sugar was not noticeable.
In the past 8 months my husband has lost over 20 pounds, I have given up Diet Coke and coffee and the kids are eating a wider range of foods and better quality foods at all meals. With an increased focus on cooking, spending time in the kitchen, planning meals and focusing on the kids physical needs, we have achieved more harmony as a family.
– Susie Copley, January 2006


I learned so much about whole foods and how and why to prepare them. By the end of the program I was cooking with fresh ingredients, experimenting with new tastes and had virtually cut out coffee, sugar and milk. I now eat lots more than I used to, don't feel deprived at all, and I feel so healthy and just great overall! Not only that, but without trying I have lost 8 pounds.
One part of Nancy's program that I didn't expect was the tools I learned to improve my overall well-being. Through the course of our meetings we worked together on how to deal with stress. I recognized the ways I created stress in my life, how I could focus on the positive aspects of myself and my life, and how I should stop trying to live up to other's expectations. I not only feel healthier nutritionally, but mentally as well. Working with Nancy has changed my life so completely.
– Name Withheld, December 2005

What started out as a way to lose weight and address food issues became a way to look at life and address life issues. By making a few food changes, I found my mind clearer. I found myself happier and calmer than I have been in years. I no longer need a large cup of coffee in the morning to function.
– Amy Clark, September 2005

Our meetings were always fascinating and built on one another very gradually. Now, as I look back from where I started, I am amazed at the changes. I sleep better than I did before I met with Nancy. I am stronger than I was. My relationship with my husband is improved. I am a better friend and mother too. She even helped me be better at my job.
– Susan Lipton, September 2005

Nina Manolson
Every book and every professional I've consulted and every program I've tried (and there have been a lot of them) has basically been the same, "Eat this, don't eat that, use portion control, push yourself away from the table, eat x number of meals, etc. etc."
Nina listens, she is very intuitive, and she knows these things don't work. She offers gentle suggestions for one thing to do based on MY personal situation. She understands the emotional side of eating as well as the health and wellness side. She knows about the neurobiology of food and how food can be the answer, not the problem! Nina knows how the negative cycles and belief systems we get into with food or with relationships or with work ALL have to be addressed if we are ever going to gain our health back. She is teacher, coach, mentor, and friend, all in one!
Nina works with each person where they are. The problem is not just about needing to lose weight or have more energy, although these are the things we usually want. She sees beyond those "presenting issues" and gently points out the bigger picture—the connections in our life between food, health, energy, relationships, self-care and happiness.
— Joan Comeau


Nina works on the premise that when we struggle with food, we are not only struggling with food—there's something underneath. Working with her is a cross between coaching, therapy, nutrition counseling, support, and stress reduction.
— Julie Bailit


Quite simply, working with Nina has changed my life and shifted my deeply held perspectives about self-care and nourishment. I cannot express fully enough the break-through experience this has been for me. With Nina's incredibly sage guidance during the last several months I have actually been able to achieve the change in my life that I have been seeking for many years. After working with various therapists, weight loss programs, and diets, Nina has mentored and coached me in a practical, pragmatic, meaningful, and brilliant way that has yielded the results I have been seeking. Bottom line, Nina's "gets me." She understands the issues with food and with self-care that have plagued me. She has helped me to understand where I need to grow in order to fully embrace my life, so that food is no longer my 'demon.' I never thought I would ever be able to achieve this kind of ease and peace. Powerful! I am learning how to choose and prepare healthy, clean foods and to appreciate how good they make me feel. I find great joy in experimenting with new recipes and how good it feels to know what foods are right for me. Most importantly, I have learned how to actually listen to my body and know what it needs so that I can access and appreciate its energy and my new zest for life. What a gift!
— Linda Bernstein


Before I met Nina Manolson, I felt like I was having trouble just keeping up with after school and weekend activities, driving everyone around, and meal times. I felt stressed all the time. I felt fat because I couldn't always get my workouts in, and I was always grabbing the quickest, easiest, and really un-healthiest meals or went through a drive thru where we would gulp down our dinner while driving.
I couldn't get it all done, and I would forget to eat healthy and exercise regularly. I was tired all the time. Then I noticed I was gaining weight and my PMS each month were AWFUL. My moods were swinging wildly, and then, even my kids started getting sick more with stomachaches, and my older son would experience migraine headaches.
Since I met Nina, I exercise regularly, eat green smoothies every day, meditate, and take relaxing baths. My kids are eating healthier and don't get stomachaches or headaches. I'm keeping my weight where I want it, and I have tons more energy. She taught me how to slow down, and how to plan meals. She led me through one of her detoxes where all the unhealthy food was eliminated. I felt what it was like to clean out my system without the use of medicine or trying to stay on a liquid diet. On the detox, I ate all the time and was satisfied.
Nina congratulated me at the end. She said "Congratulations! You have experienced an entire month of your life without meat, dairy, wheat, or sugar. How do you feel?" I didn't even realize it. I had more energy, less joint pain, and developed new habits that I can't imagine living without, all thanks to Nina. I'm happier, my kids are happier, and we eat much healthier.
I love the way I eat, I love the way it makes me feel, and I love that my kids are eating healthier than they ever have. That's huge. We're not perfect yet, but I know Nina has more tools and tricks up her sleeve and I can't wait to get them. Nina made it easy to change my fast paced, unhealthy life style. She told me exactly what to do, she provided 100% support and accountability all the time. She introduced me to a community of women who had some of the same problems as me and we worked on them together. We are an amazing, strong group.
I love having Nina by my side to keep me on track, and I always learn new recipes, tips to help me spend less time in the kitchen, and most importantly, I spend a lot of time on my self, which makes me better for everyone else. I could not have done this without Nina. You can't do everything, and you certainly can't do it alone. Nina is my major support person. She's like my best beauty secret.
— Lisa Natale


I called Nina because I was ready to develop a new relationship with my body centered around pleasure and ease. I'd done a lot of nutritional reading, researching, experimenting, talking, and coaching before working with Nina. I experienced success, failures, highs, and lows. I was unable to see my lows as informative and educational and I was unable to trust my highs as solid enough to last. When I contacted Nina, I was feeling stuck and wondering if I would be repeating my same nutritional mistakes for the rest of my life. I knew what to do yet I wasn't able to follow through and consistently treat my body with the kindness and attention I deserved.
All of this changed when I talked with Nina. She described a path that could heal my relationship with my body and food. Though I was unsure I could achieve it, I knew immediately that Nina would be a supportive, encouraging, and wise guide for me. From that first phone call, Nina listened, celebrated my previous accomplishments, and gave me hope. She even gave me strategies I could use that very day. Throughout our phone conversations, Nina gave me so many gifts that I never thought I could acquire but with her guidance they have now become second nature to me. She taught me how to slow down in the moment and breathe. She helped me find, be aware of, and respond to my feelings. Nina even taught me how and why to meditate and I look forward to my end of day meditation ritual.
Here I am 5 months later feeling lighter in body, mind, and spirit. I didn't think it was possible to feel this way. It feels a bit like magic - miraculous. I know I did a lot of work to get here. I have grown into the person I never thought I could be. I feel great on the inside and outside! I pay attention to my body, listen and feed it what it needs. I can look ahead 10 years and feel like I'll still have the understanding and compassion for myself that Nina taught me to find.
— Deborah Bartlett


Working with Nina has taught me to value taking time for myself - to do the work with her, as well as to invest the time in eating thoughtfully and purposefully. Participating in the group coaching has created a built in support group and learning group, and the sense of connection helps when exploring new approaches to creating balance in my life and diet. As a well educated, mostly nutritious eater, I nonetheless engaged in unhealthy binges and was struggling, like many women, to love my body the way it is. Motivated to lose weight, working with Nina became more about accepting my body, learning how to nourish it properly, and respecting the time and thought required to do that well.
The 3 most significant benefits for me have been more purposeful eating, increased nutritional knowledge, and recipes to support that knowledge. Nina is a mine of information and supports clients both spiritually and realistically!
Nina is a natural coach, counselor, supporter - whatever title you prefer. She immediately engaged in my personal struggle and in less 5 minutes, I found myself opening up and sharing what had been holding me back. And this was in a chance encounter in the bookstore! Nina is willing to share her personal understanding of women's issues and owns the work with you, supporting you along the way. I have benefited in ways I didn't anticipate and am interested in continuing my work with her as it has made such a positive impact on my life.
— Dawn Carney

Mela Stevens
— Paul Michael, Executive Director, Paul Michael's "The Network"

Her generous and pure heart enable one to trust her guidance knowing that she is an ardent defender of her clients best interest. Mela Stevens has mastered the art of proficiency, with effective communications and unrivaled time management skills. As a client it's like having a guru master on your side and in your corner.
— Jonna Paolella, Owner and General Manger Olde Rhinebeck Inn & Cottages, Rhinebeck, NY

— Holly Strutt Attorney/Owner Holly Strutt Law pllc


I've struggled with my weight for a really long time and have been on a million diets. For the first time in my life I'm really learning about foods and what works for me. I have a new awareness about myself, my body and my overall well being. I would recommend this experience to everyone.
— Tom, Montclair, NJ


— Brett, New York, NY


Working with Mela has helped me understand how food can work for me, not against me. After this program, I have finally learned how to live healthfully in mind, body and soul and have acquired the tools to live my life decadently!
— Michelle, Greenwich, NY

Katherine Constable

Katherine Constable is all that you need and want in a Nutritional Counselor; she is highly intelligent, easy to talk to, worldly and patient. From our first meeting on I wanted to learn more. I learned in each meeting about the relationship of food and emotions. I discovered things that other nutritionists and health professionals leave out. I didn't really know how much she would help me with so many different aspects of my life when I first walked into her office almost two years ago. From that point until now I think she performed some kind of magic, because my life has improved tremendously.
— Susanne Bonaventura, May 2006


Katherine Constable's nutritional coaching program is nothing short of life-changing. She imparts her thorough and comprehensive knowledge of good nutrition with enthusiasm and compassion. Health and well-being can be easily compromised by the pace of life today, yet her nutritional programs may be easily understood and followed by anyone, even those living the most hectic of urban lifestyles. Katherine's well-rounded knowledge of nutrition, supplements, and many of the mind-body healing arts makes her program an essential for anyone seeking a true mind-body-spirit makeover.
— Laura Fredericksen, April 2006

Working with Katherine has been phenomenal. I have learned a lot about different food supplements and whole foods as well as greens and other healthful principles. My cooking has changed and my family and I are enjoying a more varied and healthful diet. We are experimenting with whole grains and greens which were never a part of our repertoire. I have also learned a lot about posture and balance and have enjoyed Katherine's guidance and teachings on a wide variety of issues. I have thoroughly enjoyed my sessions with Katherine and look forward to learning more.
— Naomi Sinnreich, April 2006

Katherine made it a priority to understand my hectic schedule and to help me develop a healthy and realistic food plan. The health food store tour was a wonderful education. I learned how to make smarter choices in almost any situation. She offered several support tools, including a cookbook, reading resources, and skills to deal with the stress that was motivating some of my less healthy choices. The best thing about Katherine was that she never approached anything from a place of judgment, therefore my attitudes about food shifted. I wanted to eat healthier to take care of myself. She changed my life profoundly.
— Mary-Mitchell Campbell, March 2006


I have tried numerous nutritional plans and while each had its strong points, nothing compares to the nutrition plan Katherine tailored for my own physiology. Katherine provides more than just a plan. She taught me how to make good nutrition a part of my life by showing me how to shop for and prepare the foods best suited for me. Good nutrition is one of the best gifts one can give oneself. Katherine's help was invaluable in acquiring this gift.
— Michelle Hannan, April 2006

Thank you so much for the remarkable insights. You bring to the principles (intellectual and anatomical) a sensitivity and a communication of caring that is so rare and so much needed in our world. You shared your ability to expand my vista beyond the walls.
— Alfred E., Nov. 2003

— Jena R., Dec. 2004

Doreen DiGiacomo
Your six month health coaching Program helped me in so many ways that I simply don't know where to begin. I've learned so much that helps me physically, emotionally and spiritually every day. That's why I worked with you to complete the six-month schedule not once, but twice. And that's why I value the opportunity to work and learn from you in the months and years to come.
— M.A. New Jersey


Thanks to you I was able to not only stay on the path of a healthier lifestyle, but learned to take action rather than procrastinate over decisions to create the life I want. Over the course of the program you showed me that the answers were within me-thanks for guiding me to bring them to the surface.
— T.M. New York


I felt a sense of trust that enabled me to explore areas of my life without fear of judgement. I feel that I grew in many areas of my life during our extraordinary 6 months together enabling me to effortlessly make small, gradual dietary changes and developed a compassionate attitude towards myself in the area of overindulging (ice cream).
— B.W. New Hampshire

— L.A. New York

In the six months I worked with you I learned many ways to improve upon my diet. What stands out most is the importance of water. I also never knew there was such a variety of grains. I have made better choices when meal planning for my family. And personally, I have lowered my cholesterol (263-228), am making more educated decisions rather than emotional ones and am no longer using over the counter sleeping aids.
— J.F. Brooklyn

I came into the program out of frustration. I had consulted with many doctors, was on four medications for hives and two for depression. Not much was happening. With the completion of the program, I haven't had hives for 2 months, I'm happier, sleeping better and for the first time I did NOT take any work with me on my vacation!
— E.D. New Jersey

For me, the health coaching Program was educational. I learned about myself and what types of food were best for my body type. Then I learned about how all the foods I was currently eating and drinking were affecting my energy level and health. It was informative, fun and non-threatening. As a result, I am eating healthier, feeling healthier, have more energy and am no longer addicted to coffee. Yeah!
— M.D. Plainfield, NJ

On May 23, 2005 I made a life altering decision to start a six month health coaching Program with Doreen. My sugar and cholesterol were climbing. We began with a program of eating well to fit my life style and health problems. I then decided to make a further commitment to my health and join an exercise program. I was very pleasantly surprised when after 3 months my check up showed my cholesterol and sugar numbers down and within normal range and I had lost weight (a bonus!). As the course progressed, I saw that I was thinking of myself –first as a person then a daughter, a wife and mother. I've learned how to relax with meditation-a calming influence in my hectic life. I truly enjoyed the course and have signed up for another six months.
— N.B. Troy, NY

Jennifer Edden
I discovered many things about what certain foods and habits did to my mood, body and well-being. The best part is, I am still learning the effects of certain foods and what they can do to me but now I have the resources and knowledge to pay attention!
Along the way, I have learned to "enhance and upgrade" my family's meals without them noticing that a change has been made. As a mom of three boys ranging from 8 to 16, I find I am getting better at helping them make healthy food choices and know I'm laying the foundation for life-long habits. My youngest son was diagnosed with Type 1 diabetes four years ago, and this program has equipped me so I can help him live a healthier lifestyle until a cure is found.
–– LaVerne, Princeton, NJ
Administrative Manager, Bain & Company


Jenn also encouraged me to make several small changes like drinking more water, paying more attention to the ingredients in what I buy, eating more vegetables, and these have become very much a daily part of the way that I eat. She took me grocery shopping at a natural food store and gave me several good recipes - and I can absolutely say I cook more and buy better foods than I did 6 months ago. But beyond the food part of the equation, I often found myself just simply talking with Jenn about what was going on in my life beyond what I was putting into my mouth. Through this, I began to see powerful connections between my life, work, stress and diet, and also started to see the power of habit -how by your changing habits can begin to change your perspective./p>
Working with Jenn also made me more aware of how I use food to manage stress at work. I found it especially helpful that Jenn could relate to the stress of a corporate environment and was never judgmental but always supportive and creative providing a thoughtful idea for managing the stress beyond reaching for the latest sweet treat.
–– Katie, New York, NY
Professional Development Manager, Strategy Consulting Firm

Working with Jenn gave me the chance to listen to myself and get in touch with things I could be doing, some big, many very small, to improve my health, stress level and happiness.
–– Mariangelica, Tampa, FL

I am a very active 60 year old, with a teenage daughter and lots of clients depending on me. I plan to be around for a while. Jenn sees me, and helps me find answers for me. Being told what to do does not work. Finding what works for each individual is what Jenn specializes in.
Can I recommend Jenn's programs without qualification? Absolutely. She is smart, knowledgeable and always ready to learn more. She does not pretend to know all the answers. She listens to her clients and they find the answers together. We, her clients, become more involved in making choices for a healthy life as opposed to rigid deprivation.
— Bethe, New York, NY (Self Employed Occupational Therapist)

Jenn is, in a word, Fabulous! She built a program around me; that was all about me (all about me doesn't happen very often). She asked about my schedule, my likes and dislikes, my habits, my moods, my stress. With gentle prodding, she has helped me understand how to eat more healthy, how to take time out for just me, and I've realized that this entire program is about investing in my health
and well-being.
I'm now making healthy food choices. I feel better, look better, sleep better! Without question, this is the best investment I've ever made. Period. I would recommend Jenn and her program to anyone.
— Jane, New York, NY (VP, Victoria Secret)


I can never express enough the gratitude that I have for the help that Jennifer Edden has given me over the past six months. She has opened my eyes to see how all aspects of my life are interrelated. We started our journey focusing on food and the affects it has on my body, my attitude, and my energy level. Together we came up with several alternative foods to eat and creative recipes to try, so that I might feel healthier. Within weeks, I was amazed how making simple changes truly changed my life. My mind became more focused, my energy level was more consistent, and overall I just felt so much better.
— Rob, Wantagh, NY (Manager, Verizon)

I cannot believe the changes I've experienced in just a few months. I've dieted before, from Weight Watchers to Atkins, from counting points to counting carbs. Initially I lost the weight, but it always returned. Something wasn't right. I now know it's not the points or the carbs. It's looking at your whole self - inside and outside, physically, emotionally, and spiritually. Its understanding what your body needs, learning about foods and how they affect your body. It's about making educated choices about what you are eating. More than anything else, it's about loving yourself totally, whoever you are.
With Jenn's gentle support and her incredible expertise, I was guided to
find myself and focus on my body and its needs, not points and carbs; and
by choosing the right wholesome and healthy foods, I know I'm finally on
the right track.
— Lucy, Middletown, CT (School teacher)

Yolanda Faustini
I am feeling much better these days, and I am thankful to Yolanda for that. Before working with her, I was tired all the time and did not have the energy to exercise. I was a workaholic and a big ball of nerves. What's worse, I never realized that I was making myself sick. I just thought that I was getting older and my health was going downhill and there was nothing that I could do about it.
In just 1 month, I lost weight, gave up coffee, found a way to include exercise everyday in my daily life, and I learned how to eat in a way that makes me feel great physically and mentally. She taught me that having more fun in my life was just as important for my health as eating fruits and vegetables. I feel better and stronger now than I did 10 years ago.
— F.F., Westchester

Yolanda is wonderful! She made me see where I would stand in my way of making my dreams come true, and being true to myself. I can now see things much clearer (or from a different place). Yolanda would hold me accountable to making my goals happen. Her dedication and great listening skills with wise advice has been a support I am grateful for. Working with Yolanda has been life changing; I have learned to listen to myself.
— K.B., Manhattan


When I first decided that I wanted to start taking better care of myself, I thought it was going to be torture. Yolanda taught me that healthy eating should not be painful and that I did not have to give up anything that I loved. But what I noticed is that more and more, I started to want different kinds of foods because I saw how much better I felt. 3 months ago, I never thought I would be where I am today. Thank you Yolanda for being such a great inspiration and support!
R.B., Long Island

I have found my sessions with Yolanda informational, entertaining and valuable. She directs you to better health through education and conversation making sure that the program fits with your lifestyle and tastes. Yolanda provides information that truly impacts your lifestyle decisions -– not by following a diet -– but by making subtle, informed changes that positively impact your health.

Yolanda has a great manner, is very supportive and understanding. You are never scolded, but always encouraged. The sessions are reinforced by recipes, little favors that introduce new items to your life. I am very pleased that I have taken advantage of this opportunity to improve my health and lifestyle and continue to look forward to each session with Yolanda."
— C.H., Queens

Lisa Fiener
Five years ago, after learning I had two neurological diseases, I worked with Lisa for six months to discuss not just a diet, but also a strategy to feel better, stay healthy, and get stronger. Her common sense, intelligence, and sympathy for my situation were remarkable. Her knowledge and research into each subject brought out wonderful new approaches and ideas, authors to read, and even recipes. Today I still follow our general plan, and I'm doing great!
— N. Rodman

I began a wellness program with Lisa Feiner two years ago, prior to a major surgery that I was very anxious about. At the time, I imagined that putting the right things into my body would heal me. When it became evident that I would have to go forward with the surgery, Lisa and I discussed how I could prepare myself both physically and mentally.
Lisa took a whole body and mind approach and discussed ways of changing my eating habits and nutrition, and recommended both relaxation techniques and lifestyle changes. As a result, I became mindful of what I was eating, introduced organic food to my diet and that of my family, and learned what various foods do for my well being. I also took up bridge and knitting as a means of relaxation, and used journaling to center myself.
I continue to use the recipes, food recommendations and lifestyle changes that Lisa presented to me. I went into my surgery with a positive mind and a healthy body as a result of Lisa's tutelage, and continue to be in good health ever since.
— Judy Soep

When I began working with Lisa, I was a workaholic whose life was out of control. I'm a forty-six year old consultant, wife and mother who had not paid much attention to either my family's or my own nutrition and well being. I wanted to learn how to feed myself and my family nutritiously, enjoy my life more and become a human being instead of a human doing.
At first, Lisa helped me articulate my goals. The regular client updates allowed me to assess my progress. I loved the information, recipes and goodies she gave me, and felt extremely well cared for and educated. What I appreciate about Lisa's style is her acceptance and non-judgmental approach.
Changes I've made as a result of working with Lisa include buying organic foods, doing yoga twice a week, scheduling time in my calendar just for me, cooking more nutritious meals for my family, and having a daughter who now eats vegetables! I respect that Lisa practices what she preaches and is very knowledgeable about holistic healing. I know that anyone who has the chance to work with her will benefit greatly.
— Cathy Mobley

I decided to work with Lisa to help me incorporate healthy cooking into our regular diet. My husband and I have experienced health problems and eating healthy has always been a big priority for us. Lisa spent considerable time understanding our needs and then tailored her recipes to satisfy our constraints (which was not easy!). She was great to work with and made everything very easy to understand--even with my limited cooking experience. I would highly recommend her to anyone!
— Elena Krail

Erin Owen

Since working with Erin, I have become acutely aware of the food/energy/health relationship and need for a balanced life and environment. I am more balanced in my work/home/life and feel better about myself and my choices. I now know that working out is key to my overall well-being and I've learned to make better overall choices. With Erin's help, I learned to breathe, eat healthy, take time for myself, focus on what my needs and my body's needs are, and think happy, relaxing thoughts. Without Erin's help I could not have so successfully changed the way I eat, workout, work, focus on me and my relationships; nor would I have a clean, organized, efficient home office in which I can be productive!
— Steve D, IT Managing Consultant, age 42

Working with Erin helped me to lose weight (nearly 25 pounds and counting), have better skin tone, be more in control of my emotional highs and lows, and have clarity of thought. I learned to drastically limit my sugar intake, eat lots of greens, love grains, keep healthy foods on hand, and eliminate ice cream and fried foods from my diet. I am no longer chronically late because I wake up feeling well-rested and no longer hit the snooze button. I also no longer procrastinate at work, but rather I am full of new ideas and energy, am more productive and have a happier outlook on life.
— Cyndi D, Human Resource Professional, age 54


I now sleep better and have much better digestion. I shop for food—even cook once a week and enjoy being in the kitchen! I love to chew my food fully and think about what's in the food. I pay close attention to what I'm eating, and my weight is not an issue anymore. For anyone who is thinking about hiring his or her own health and lifestyle coach, I would say, go for it—it's a great commitment to make to yourself.
— Rob S, Vice President of Technology, age 33


My work with Erin has delivered real results in improving my health, my life. She has helped me to more clearly define personal goals and to make sustained progress towards them. With great listening, knowledge, dedication and integrity, Erin suggests creative and workable steps to help me help myself. And while food used to be an issue for me, Erin's caring support has helped me make food the foundation of a healthier life.
— Caroline H, Consultant, age 37


During the 6-month program, I learned to eat healthier with better food choices and snacks; I learned new recipes of great foods to cook. I also learned that taking time to breathe helps to center me and relieve my stress. The program gave me the chance to learn to eat better, exercise, and better manage my stress. Working with Erin was a wonderful experience! She is upbeat, patient, always smiling, and not judgmental.
— Angela M, Physician, age 33

The specific positive changes I've experienced since working with you are having more energy, more consciousness, slow weight loss, feeling more grounded and centered, yet also feeling lighter. What I loved most about the coaching program was being introduced to new foods and becoming more aware of my self-sabotaging conversations. I also loved the Whole Foods "tour" and the cooking classes. I learned what foods and combinations of foods work for me, and now eat breakfast daily. What I appreciated so much about working with you is your expertise and knowledge, gently imparted in a caring and committed fashion; your organization and follow-through; and your passion for your field. Being accompanied by a wise and caring coach on an on-going basis has been critical to my growth and learning.
— Judith E, Editor/Writer/Researcher, age 64

Monica Shah

It was so great working with you – I definitely look forward to doing it again in the future. You really changed my life!
The things I accomplished working with you include: finally figured out that I am allergic to cheese, learned to breathe and relax, now eat more vegetables and fruit, now trying to cook more. I also have fewer symptoms related to constipation and less bloating. I am much more aware of what food I put in my body and how I feel after I've eaten.
— S.G., Research Analyst


Working with Monica was a life-altering experience. Don't get me wrong, there is no magic formula and it takes effort and one needs to keep with it. Having said this, Monica's suggestions on meal size changes (big breakfast), varieties of new foods (all organic) and new recipes, suddenly, I was cooking.
I have lost weight, but more importantly, Monica has helped me create a formula that is really healthy, really fun and I can feel the difference. I know what kinds of foods give me energy and that when and how I eat them makes a difference too. I discovered, with Monica's assistance, how much of a stimulant caffeine was for me. As a result, I have cut my caffeine consumption in half and feel so
much better.
Physically, I have been able to increase my workout days. I can more easily push endurance training such as bumping up my distance runs 20%. My body also seems to recover faster. I have even noticed changes one would not normally focus on, like stronger toenails. I managed to perplex a hairdresser I had not seen in 6 months because my hair was so much healthier.
Monica's calm, consistent, practical approach to life, incorporating what you eat and making good food fun and healthy was an invaluable experience.
— Jenifer Taylor, Money Manager


When I approached Monica I was troubled with skin problems, an ongoing plight of some years. My digestion had always been erratic and I'd often experienced stomach cramps, bloating and other related problems. Since I enrolled in Monica's 6-month program, those ailments have drastically reduced in severity. If I have a recurrence, I also know the best antidotes, gained from Monica's wealth of knowledge.
While working with Monica I was able to recall what it felt like to be healthy. The last time I consistently felt this way was when I was 14 years old. It is great to know that I can be in charge of my well being through the slew of tips, recipes, advice and wisdom that I gained from the program.
— Pam Govinda, Journalist

I was a scattered food mess before working with Monica. I had gotten a great start with my goals from my triathlon coach but had stalled because his diet was so limited and uncreative. I received an enthusiastic champion of my goals AND someone who understood that food was more than fuel but still had to be respected as something that must be controlled. I learned so much about new food items in each food group and new ideas for cooking. I also learned new ways to de-stress, so important to total health.
— Jane Dashow, Small Business Owner

Melissa Spielman

I joined Melissa's 6 month program after 2 of my colleagues at work raved about results that they never expected. I wanted to lose weight. Never did I expect to enjoy the new foods (even the greens) as much as I did. After the program, I had more energy and had a new appreciation for my family, friends and career.
— Steven C

I would never admit that I had a binge eating disorder. Melissa listened to me and allowed me to trust in her to come to terms with this disorder. Melissa supported me and guided me as we explored ways to uncover what was causing my binges. Melissa helped me rearrange my relationship to food.
— AK

My family and I needed a new nutrition program….menu plans, recipes and how to coordinate meals for a family of 5, always on the go with different schedules.
I am now able to plan a menu for the week and spend less than 2 hours in the supermarket, only 1 day per week. My kids now bring their friends to our house to show them the kind of snacks that we have.
— Robin D

It was always the stress of my career that kept me from taking care of myself. After committing to Melissa's 6 month program, I was less stressed at work (actually took on more responsibility) and had more time and energy for me and the things I enjoy outside of work.
— Marissa B

As a recently diagnosed Type 2 (adult onset) diabetic, I approached Melissa to teach me how to make the right food choices. I learned a new way of life in learning to eat right and I discovered that I was too busy nurturing others and not taking care of me. I now can put myself first and still take care of others.
— Gail T

Cynthai Stadd
Although not really overweight, I came to Cynthia with acid reflux, very high cholesterol, a feeling of extreme bloat, and a rollercoaster metabolism. Over the course of her six-month program, Cynthia helped me to naturally change the way I look at food and at myself. Although we made a lot of changes, Cynthia made the whole process such a breeze, as I learned how to cook, changed the way I handle stress, and learned to take care of myself. Not only did I drop 15 pounds and 40 cholesterol points, but also I was constantly encouraged by Cynthia's smarts, humor, and endless enthusiasm. I highly recommend Cynthia and her program to anyone looking for a fresh start and long-term change!
— Patrick Smith

I came to Cynthia will goals of balancing my diet: reducing snacks, chocolate cravings, and increasing my energy levels. I got much more than I bargained for! Cynthia was supportive and at the same time knew when to push me to my capabilities. My diet has totally changed within six months. I went from eating mostly white processed foods to a well-balanced whole diet. I feel better, look better and this eating style has become a way of life for me.
By gradually making subtle changes each week, I was able to rid my cravings and make healthier choices. I am cooking healthier all the time and make good choices for my family and myself. I recommend Cynthia's program to anyone who wants to gain control over his or her eating habits. She is extremely knowledgeable in the area of holistic nutrition and always provided suggestions and answers to my questions. Thanks!
— Susan Lerner

When I first started the program, it was a bit of a shock as you were suggesting some drastic changes in my lifestyle. After having the ability to eat almost anything for most of my life, I was being asked to drastically reduce my intake of pizza, wings, and nachos; the staples of a good football season. I needed to engage help in this quest as my cholesterol level was 238 and I didn't want to use medication as a quick fix, solving the symptom and not the problem.
Your approach of education as opposed to dictatorship helped me adjust my eating habits to a healthier lifestyle. You sought to understand my current habits so as to suggest a course of action that would maximize my chance of success.
Once I began your program, I found even more energy than I had before, something my wife thought was impossible. I am an avid runner and my workout performance increased greatly. My training runs are easier and I am going farther and doing it at a faster pace.
After four months on my new regimen, my cholesterol level dropped to 162. My good cholesterol rose and my bad plummeted. I continue to use the information you gave me and the recipes you sent me. By the way, keep the recipes coming.
— Chet Taff


Even though I know a little about nutrition I couldn't get my diet right. I'm not a Weight Watchers kind of guy, I never liked Atkins, but tried the South Beach Diet with some success ... To my utter amazement within 90 days I was losing inches, body fat and my earlier skepticism.
I never felt hungry. I enjoyed the food choices. It was not exhausting like the earlier attempts that had failed because they were either just too hard or not properly balanced. This time I have a formula I can rely on.
— Dan Silverstein